Work Details
Horse and Rider V
cast iron
27 X 10 X 15
Inventory ID: #2242
rider w/out plume
About Xavier Mascaro
Xavier Mascaró currently lives and works between Mexico and Madrid. He is a Spanish artist, born in Paris, who moved with his family to Spain in 1968. He began his first paintings and works in etching in 1979. Between 1983 and 1988, he studied at the School of Fine Arts in Barcelona, ​​receiving a degree in the specialty of painting.
In 1989 he made his first works in bronze and in 1995 he began to work in iron. Between 1996 and 1998 he lived in New York. He then returned to Madrid, where he worked on the realization of monumental works, some of which are installed in Ceutí (Murcia), Jerez de la Frontera (Cádiz), and Pinto (Madrid). In 2004 he moved back to New York. Around that time, he began to experiment with works in different materials, including leaded glass, resin, and stone.
Since 2011 he has had studies in Mexico City and London.
Mascaró has had several individual exhibitions in Madrid, Malaga, London, Abud Dhabi, Mexico City, New York, Buenos Aires; and has participated in important fairs such as Art Madrid, ARCO, Art Cologne, TEFAF, Bologna Arte Fiera, etc.
All Works by Xavier Mascaro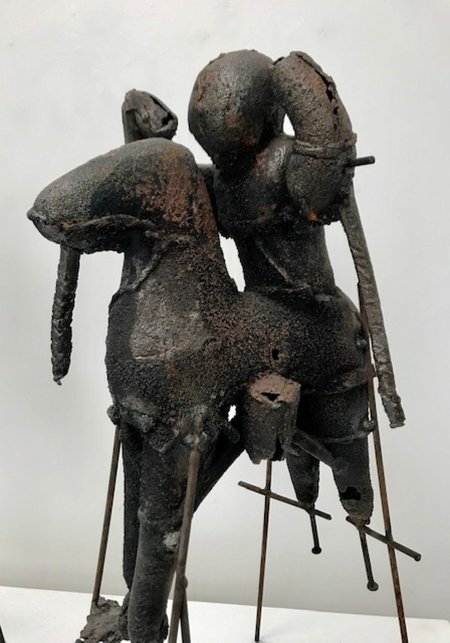 Horse and Rider V
cast iron
27 X 10 X 15
Inventory ID: #2242
rider w/out plume